Another Thursday, another Thumbs up Thumbs down post. Read here for the back story of why I started this.
This week I have a couple of exciting posts to share.
Brittany from

The SuperHERO

Teacher's Adventures and

Advice

has a Thumbs up post called Today's Topic: Organization

.

Brittany shares a genius DIY calendar using a cheap picture fram

e and paint chips...so cute!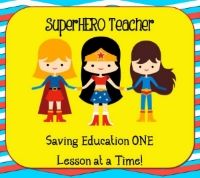 Thumbs up to

Crystal

at

Kreative in Kin

der

for her super cute post called Q &U Wedding. She share

s

some great pictures of all the activities her kids did during this fun day. I wish I could have been a part of

all the festivities!

Kathy Griffin

from

Kathy Gri

ffin

's T

eaching Strategies

shared a great post called Dr. Seuss Fun Picture App. She has found and shared this super fun app that will have your students all excited for Read Across America Day. This is a must read post and app, a definite Thumbs up!
Th

umbs up

to my friend

Kathie Wainwright

from

Diary of a Not So Wimpy T

eacher, and the launch of her new book. She is having a

10 day

virtual book tour for her book Summer in The City. She is having a fantastic giveaway - 10 lucky winners will win her book. She has also enlisted other teacher bloggers to do a Q&A, book reviews and create products to go with the book. Head on ove

r and check out her amazing book!
The amazing

Charity Pres

ton

from

The Organized Classroom Blog

has just launched a new online magazine called The Organized Classroom Magazine. The magazine is jam packed with ideas, tips and tricks on how to keep your classroom running smoothly and looking great! This is a HUGE Thumbs up!
Thumbs up to my daughter for being picked to be the front and center ballerina in their upcoming recital. She has worked

so hard and that hard work is finally paying off. We are so proud and she is SOOO excited!
Thumbs down
to

Downton Abbey season 3 being over and season 4 not starting till January of 2014...ugh! Thumbs down
to 2nd graders not knowing how to tie their shoes because mommy always does it for them.
Thumbs down
to the auto correct on phones. The story behind the picture. We were going to the desert over the 3 day weekend to go camping and dirt bike riding. My oldest daughter and husband left Friday and Madison and I were leaving Saturday morning. I told them to text me to bring anything they forgot. This text message came from my 18 year old daughter. Needless to say, I cracked up!
Your turn!