Inspiration comes in many forms, and this week my inspiration comes not from a great lesson or cute activity but from a caring, generous person. Holly, at Crisscross Applesauce, held a
Pay it Forward Giveaway
. She is graciously giving $50 to a charitable organization in YOUR name.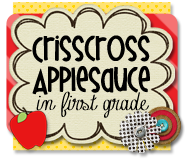 Last night, Holly randomly picked her winner.
Thanks to JLevine's entry and Holly's generosity, $50 will be going to
Please take a minute to visit Holly's post
Pay it Forward Winner
to read about this wonderful organization.
Holly truly is an INSPIRATION!
Best,