I am linking up with A Peach for the Teach to share my 2014 resolutions.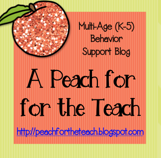 Here they are, simple and to the point, let's just hope they are simple enough for me to keep!
Personal - Make dinner more is simply that. I use to be good at getting dinner ready and all of us eating as a family, but it seems I have run out of time. But what I really think is, is that my husband doesn't get home from work most days till 7 pm and my kids are 17 and 19 with busy lives of their own. It is hard to get motivated to make dinner when nobody is home.
Professional - Network more. I sub, I want my own classroom, there are no more pink slipped teachers in my district so everyone is now in the same boat, subs. With a little networking I am hoping I can get myself a classroom next year.
Classroom - Get my own, I am tired of subbing and not teaching material how I want, or believe should be taught.
Blog/ TpT - Try not to be as obsessed with them as I have in the past. I need to take better care of myself and my family and let my blog and TpT store not be the forefront of my thinking.
Just-for-fun - Craft more. I love to paint, create and make but since I started blogging I have done none of that. It is time I start again and now with Pinterest, there are endless possibilities!
As I said, my resolutions are simple, I just have to make them important enough to actually do them.
Good luck to the rest of you on tackling your own resolutions!